Not long ago a good friend of mine Kris put me on to a really cool group called "Melon Batake a go go" and am I glad he did! Honestly they might be one of the most unique and interesting things I've seen in the idol scene in a while. Needless to say after giving them a listen and watching a few lives on YouTube I was compelled to get to know them better and hopefully spread the word of the Melon just as Kris did to me.
Luckily for me one of their members Soze Nakamura posted about being available for interviews and promptly agreed to one with me, Happy days! After brainstorming some questions I thought you'd all be interested in reading the answers to and some major translation help from a friend on twitter (big shout out to @auhby for making this all possible) I'm finally ready to present to you, my interview with Melon Batake a go go!



From left to right; Run Rutakame, Yuffie Sakimura, Soze Nakamura, Rukatama.

When was Melon Batake a go go started? What was the idea behind the creating the group?
Nakamura: Melon Batake a go go was founded in 2015 but our debut live was in 2016. The original idea was to form an idol group, and from the beginning the group was set in a movie style. I joined the group in June of 2017, and it was after that the group started partaking in live activities regularly.
Who's in charge of composing Melon Batake's songs?
Nakamura: Many of Melon Batake a go go's songs are covers from a band called THE MONSTER A GO GO'S in which our producer Kinoshita-san serves as a bassist. We rearrange the songs from an idol perspective and incorporate them into Melon Batake a go go's style. We have completely original songs as well (eg. "Melon Batake a go go", "IDOL CATS", "Melon Quest").
If you could describe your producer how would you do so?
Nakamura: Our producer is a genius.
Rukatama: The person who's most concerned about the group.
Yuffie: He's a person who always thinks deeply about Melon Batake a go go and treats the music seriously. Normally he's keenly taking a lot of things into consideration, when he points something out he can say it in a way that each of us understands well.
How would you describe the style of music Melon Batake performs, what are your influences?
Nakamura: The elements of Rockabilly, Psychobilly, and Garage are strong in Melon Batake A Go Go. Songs such as "Surfin' Bird" or "Love Me", are popular for bands to cover.
Rukatama: Rockabilly, Psychobilly, Garage Rock. I didn't know that scene very well but when I first heard Melon Batake's songs, the music reminded me of foreign B-movies and pinup girls.
Yuffie: Rockabilly and Psychobilly are the genres our producer is fond of but I decided to join Melon Batake a go go because I really liked the group's songs and concept.
Run: …┏┛墓┗┓ (The character means "tomb").

Rukatama showing how passionate they get during live performances.
What do you think makes Melon Batake different from other idol groups?
Nakamura: I think the compositions of Melon Batake a go go are our special trait. Our concept is "Idol From Outer Space" but we dress like Robin from Batman. Also although the music is horror-themed we have cheerful compositions as well, and we do things like removing our masks during live shows. We do our best to smoothly bring together these features that appear unrelated.
Rukatama: We appear really cool but are pretty easy to get along with, as well.
Yuffie: The fact that our songs and concept contains a lot of drama and movie influences! We always change the phrases we use, add some ad lib depending on the shows, and such. Every time we do different things depending on the situation and that makes it enjoyable. Also, we have the nerve to wear masks and dress up like American comic book heroes!
Run: …That we look like a movie!
Can you tell us about your stage outfits, what did you take inspiration from?
Nakamura: The outfits are based on the image of Robin from Batman. The eye masks belong to that image, as well. We've actually had three different types of outfits so far but they were all based on the image of Robin! Robin's suits have also changed along the years, so Melon Batake a go go uses this same basic concept of varying the form of the outfits! The current outfits are designed by our member Rutakame Run and were tailored by Erika-san!

Rukatama: Our member Run drew the designs.
Yuffie: We had wanted to wear new outfits for a long time, so we expressed our wish to have them made for our May 28th performance. Our producer provided us with several themes and each of the members drew illustrations. Run's illustration was chosen and we had it produced.

Superhero costumes have never looked cooler!
There have been a few member changes since Melon Batake was formed, how have you gotten to the member line up you have now? Do you feel like you have a strong bond with each other because of Melon Batake?
Nakamura: Melon Batake a go go has always had four members at max but there has been three different groups of four. When I joined, it became the second group of four. Among the current lineup two member entered through audition and two were scouted. We knew each other even before we became a group, so it has been smooth working together in the group as well.
Rukatama: It's been only half a year since this lineup came together but I think we understand each other and have a good complementary relationship.
Yuffie: Originally, Rukatama and I participated in a big event as a support act at the end of last year. After that, in January, I received a membership offer for Melon Batake. At that time I had to do a recording for another unit, so I actually joined in February. I wasn't immediately determined to join because I liked the Melon Batake a go go of those days, I was worried that my joining might make the group's image crumble.
Since I've been together with Rukatama for three years, both Nakamura and Run have distinct personalities, and we all love Melon Batake a go go, I think we get along very well.
Two of your former members joined you on stage for the encore at your recent SICKxIDOLSxSICK show at Shinjuku Loft, was it fun to share the stage with them again?
Nakamura: Without those two former members, there would have been no Melon Batake a go go, so I'm really grateful for them. I'm glad that we could have a reunion like this on such an important day.
Rukatama: As it was a surprise, I was really astonished. But I had been wishing to do a live with 6 members so having that wish granted made me really happy
Run: It was fun!

Melon Batake joined by two of the former members Romi and Mikity.

We see you have just announced SICKxIDOLSxSICK vol.2, can you tell us about that?
Nakamura: SICKxIDOLSxSICK vol.2 is a one-man live at Shinjuku Loft! It will be held on 2018 November 19th (Mon).
Rukatama: You'll end up regretting it if you don't attend this live!
Yuffie: Preparations for recording will start from this.
Run: …I'll be happy when your voices reach me at the beginning of the show. I'm glad that I can sing together as the four of us.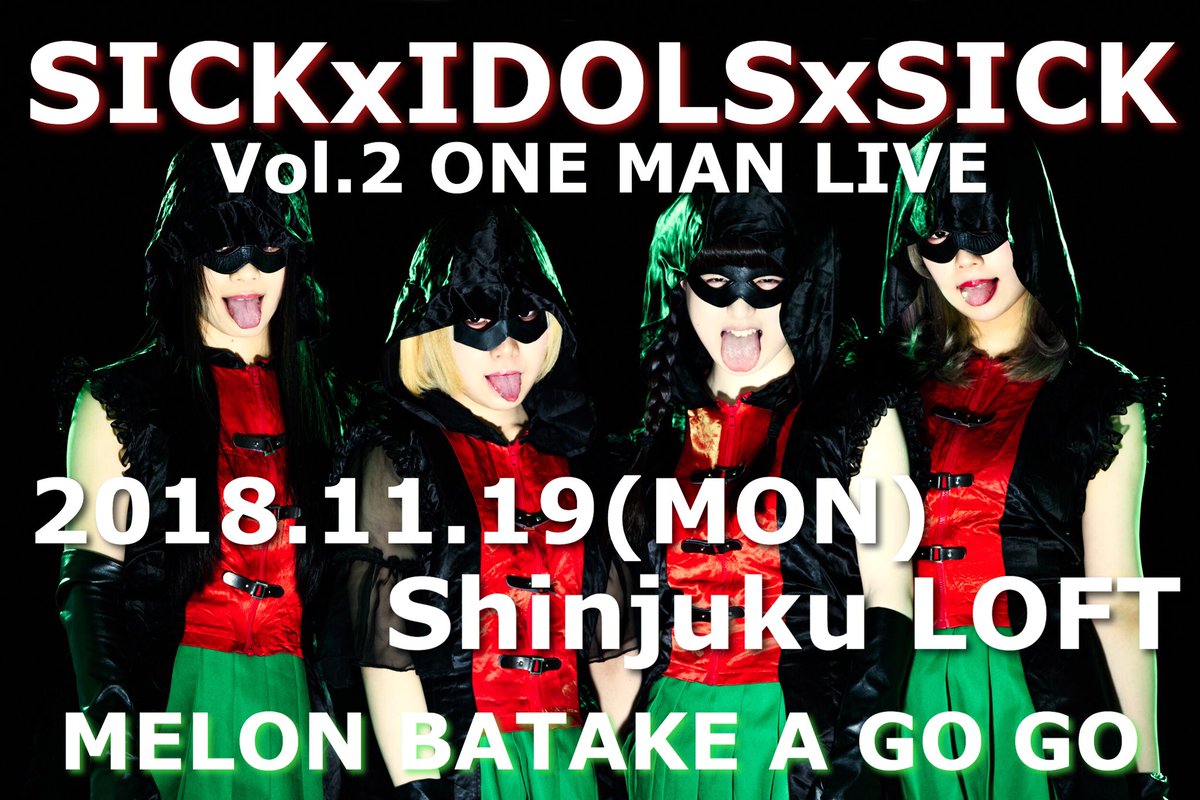 Looking forward to attending this myself, if you're in Japan around this time please come!
SICKxIDOLSxSICK is also the title of your new mini-album, what can you tell us about the album. For each member what is your favourite song from it?
Nakamura: This album's development took place over a whole year! It's the first CD with the four of us in the current line up. Ever since I joined the group we tried to make this album but as we had some lineup fluctuations and such, the project was delayed. It's all new songs!
I like the song "Change The Wolfman".
Rukatama: I think it's an album that grasps the world of Melon Batake a go go really well. I love all the songs.
Yuffie: The title's super cool. I like the first song "SICK IDOL" and the fifth song "The Idol from Outer Space".
In the first song I like how the whole tune gives a feeling of an old horror movie-like story starting. In the fifth song I like how the sound is addictive but different from "Horror Billy Nights".
Run: …"Idol Cats"!
Find your favourite song!

The album is available to purchase from here: https://melonbatake.theshop.jp/
They don't ship internationally yet but you can use all the usual proxy services like From Japan and Zenmarket to get it for you!



Front cover



Back cover
It seems like Melon Batake a go go has been busy so far this year, is there anything else you would like to achieve in 2018?
Nakamura: We want to make the 2018 one-man live a success! Also, since I tore my anterior cruciate ligament (ACL) in my right knee in March this year, my target is to have it recovered by the next one-man!
Rukatama: Yes there is but it's a secret.
Yuffie: I'd like to appear on a big festival. This is a thing I've aimed for since the beginning of my career. But, first I want to make the November 19th live a success and then next year take greater leaps of progress.
Run: …I want to do things that will get everybody surprised. But I won't tell you about them yet.
Would you like to tour abroad? Where would you like to visit if you had the chance?
Nakamura: I'd like to go to Europe! Since the Psychobilly bands Mad Sin and Nekromantix are from Europe, I'd like to do a live there! I'd like to visit America as well. I'd like to perform in the event called Psychobilly Meeting.
Rukatama: I'd like to go and see England.
Yuffie: Of course I'd like to do an overseas tour. If only the chance occurred, then anywhere!
Run: …A place where the food's good would be nice.

Run Rutakame showing off her cool new costume she designed!
Recently there has been a rise in overseas interest in Melon Batake, how does this make you feel? Have any overseas fans visited you at shows in Japan?
Nakamura: When we put out the "Horror Billy Nights" MV and had a lot of responses from foreigners I was happy! There have also been foreigners who have attended our lives. I'm very happy for that! I also want to spread our music more through Soundcloud, YouTube and such.
Rukatama: I'm extremely happy that there have been people from overseas attending our lives. I want people from all over the world to hear Melon Batake's songs and see our lives more.
Yuffie: I'm really happy that we've been able to stir up interest overseas as well. I think it's thanks to you all who are fond of our songs and concept and have introduced us to others. There have been a few times when foreigners have attended our lives.
Run: …I don't know English but thank you very much!
What can you tell us about your live show? if you could each describe your live show in a few words what would they be?
Nakamura: Lives are very fun! Since there's a lot of freedom in Melon Batake's choreographies, our personalities are very well expressed. It's fun but as it's your experience and knowledge that will be exposed, there's also difficulty in it. We had Aya-sensei assigning choreographies for the new songs. As the members' personalities are so scattered, it's also fun to watch each on their own, but the four-piece Melon Batake a go go is the most enjoyable.
Rukatama: Melon Batake's lives are always really enjoyable. My body is not very strong by nature but lives are so fun that during them I get a boost of power and become able to move a lot.
That's why I'd like to have even those who haven't yet seen us to come and have fun at our lives.
Yuffie: I wrote this already but I think the fact that we alter our MCs, singing and moves in each performance is interesting.
Run: …While doing lives, I can forget all the unpleasant things! Everything can be just fun! I love it!

Melon Batakes live performances are super dynamic!
Before you go on stage to perform do you do anything backstage to prepare either by yourself or with each other?
Nakamura: I always braid my hair before lives.
Rukatama: Lately I've always tied my hair in twintails. Just before going on stage we scream together "Melon Batake a go go-o!!" to fire ourselves up.
Yuffie: As for myself, I do stretches all over my body. When the intro music starts I raise my feelings by jumping up and down before appearing on stage.
Run: …We all go to the convenience store and chow down on snacks!
Outside of Melon Batake what sort of music does each member like to listen to in their spare time? Do you each have any hobbies?
Nakamura: I like music and movies. As for music, I prefer UK Rock, Alternative and Indie Rock. Since joining Melon Batake I've grown to like Psychobilly.
Rukatama: I like Jazz and Visual Kei. My hobby is taking photos while walking.
Yuffie: Influenced by my friends and people around me, I like Punk, Metal, Idol, Anison, and other various genres. Among Idols, I take inspiration especially from Momoiro Clover Z, Denpagumi.inc, BiS, Perfume, and Tentenko, and among bands, Joubachi, SiM, Marilyn Manson, and Rammstein.
Run: I like Japanese Rock. Bands like Fuji Fabric, Galileo Galilei, 88 Kasyo Junrei…also Shizukana Kanji and such. Right now I don't really have any hobbies.
Do you have any funny stories you could share that have happened in the group such as at a live event or in the studio, etc?
Nakamura: There's a lot of freedom in Melon Batake a go go's lives. I'm always looking forward to seeing what kind of performances the other members will come up with, so lives are always really fun!
Staying up late in the studio, thinking over the new songs' choreographies the day before our live debut with this lineup was fun!
Rukatama: The fact that our producer unexpectedly scouted me and Yuffie, not knowing that the two of us had earlier been performing in the same group.
Run: …Tama-chan's home is my home. Lately I've been staying at Tama-chan's a lot!
Nakamura as we all know, you are currently recovering from surgery to repair a torn ACL, How are you feeling?
Nakamura: The ligament reconstruction surgery was on June 15th. I stayed in hospital for 2 weeks. Rehabilitation included, it will take half a year for me to be able to stand and dance again. It's inconvenient for everyday life and I can't give a complete performance on stage which persistently frustrates me. Now I'm striving to recover by November.
Run: …She looks fine. Canada[ie. Nakamura]'s  just rather tired.

Not to be stopped from doing what she loves Nakamura performed wheelchair bound!
We saw that you were still performing regularly despite your injury, a lot of people were impressed with your dedication! Can you tell us a little about how the injury happened?
Nakamura: Thank you very much!
During the March 25th performance in Shibuya Milkyway, when I jumped down from the stage my knee twisted inwards, and the ligament tore. After that I was crying the whole show. After the performance I couldn't stand up and was transferred to hospital by ambulance.
Run: She was jumping like "Yaaay!" then "Booom!".
OUCH!
We saw on Twitter that Rukatama was selling curry, what was the inspiration for that? Do you sell curry regularly? Where do you normally sell it?
Rukatama: Originally I was working as a waitress in a curry restaurant called Akihabara Carigari. However, I also wanted to make delicious curry for everyone myself, and that was the start of it. Our promoter kindly helped to actualise the idea and now "Rukatama Curry" is being sold in the Sugamo Shishiou live house and Gorilla Pop Cafe among other places.
Run: …Because she's good at cooking, I guess, the stuff she prepares us every time we go stay at her place is also yummy-yummy.

Rukatama cooking up some delicious curry for lucky customers!
Yuffie we see you are involved in quite a few projects alongside Melon Batake, most noticeably your solo project Garuda, how do you find time to be involved in so many projects? Do you have any solo releases you hope to release in the future?
Run: …Well, how's it Yushii-san?
Yuffie: It's a pity but one of my other projects came to an end. Currently my main musical activities are as a solo artist and in Melon Batake a go go (Yuffie-Tama has been set to once in a month basis). There's a plan to release the song "Mousugu yuki ga…" that I've been singing as a new song on CD soon. Please wait for further news!
With her LED microphone and mask Yuffie's solo project GARUDA is easy to identify!

The all black attire and nail studded bat fit perfectly with Garuda's industrial sound!

We see that Run and the rest of Melon Batake work part time at the Gorilla Pop Cafe, Run can you tell us what do you do there and do you enjoy working there? Do you have any funny stories from your time spent there?
Run: …I don't know much about booze and stuff but the customers teach me a lot! Somehow I'm just working. That's why I'm the strongest!
Thank you so much for answering all our questions!
As a last question, do you have anything you want to say to your overseas fans or people reading this who might be interested in Melon Batake?
Nakamura: Melon Batake a go go will hold a one-man live in November! We've put out a new mini-album! We've also shot a film with the members starring! I want to spread awareness of Melon Batake a go go to more and more people. And I want to do a one-man live at Zepp Tokyo. I'll do my best.
Rukatama: Thank you very much for always supporting us. Melon Batake a go go will keep on working hard in order to be able to perform overseas.
During arranging and translating this interview Melon Batake released an MV for their song Horror Billy Nights, Check it out below!

A MASSIVE thanks to Melon Batake to agreeing to my interview and for giving us such great answers! These girls are super cool.
Well hopefully you've enjoyed this interview as much I enjoyed making it happen, if your interested in Melon Batake a go go and want to learn more I'll leave all of their relevant social media links down below:

Official Website – http://melonbatakeagogo.com/
Group Twitter – https://twitter.com/MELONBATAKEAGO2
Official Store – https://melonbatake.theshop.jp/