Back again and more determined than ever to spread some spotlight on the lesser known idol groups currently active in the scene, I've teamed up yet again with my good friend Kris to take you on a trip to Chika corner!
The idea of these articles is to try to put together a short list of 2-3 acts we think are worth checking out that you might not know about as well as giving you all the information you might need to know before doing so!
lets get stuck in!
---
バカは死ぬまでなおらない。(Baka Wa Shinu Made Naoranai.)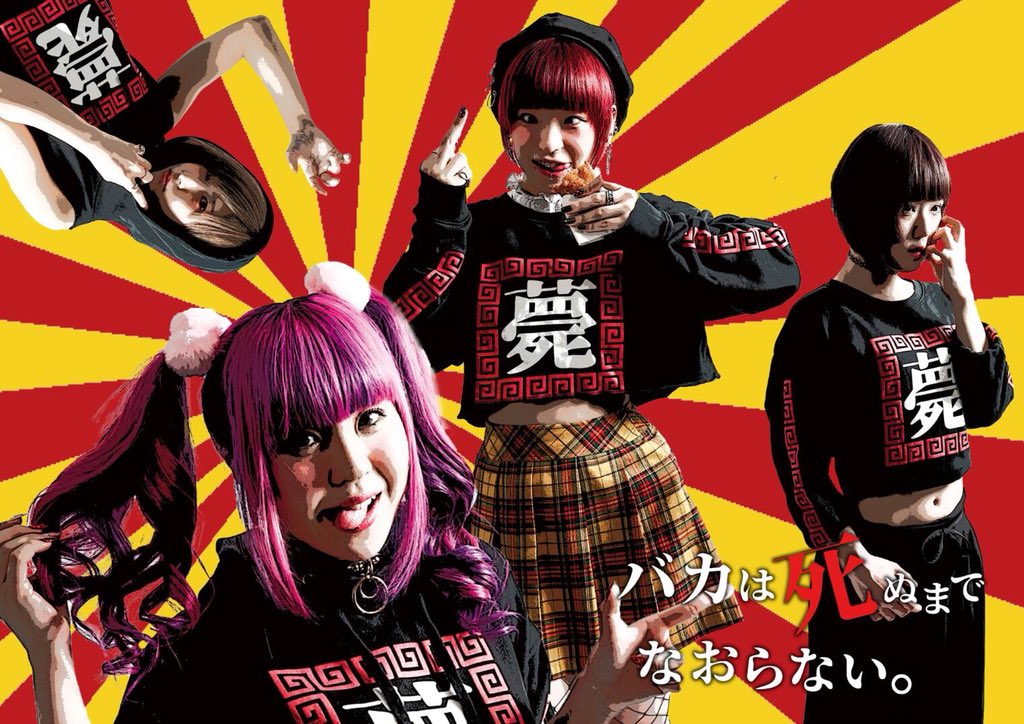 Their visuals are as wild and crazy as they are!
Baka Wa Shinu Made Naoranai or just Bakashinu for short is a super-group made up various chika idols from different groups, some of which I might cover at a later date.
The current line up consists of: Enma Shinomiya from Emomomomo, Chihiro and Ando come from de'Barrier. Maimiko Ichika from Maimitamako and Minase from Emomomomo who recently replaced a graduated member.

The group formed around November of 2017 and this year they are steadily gaining some momentum. They have become more popular than any of their own groups but maybe you can expect that from a super-group. Their sound is a nice mix of post hardcore and metalcore. This music is pretty heavy and the fans like to slam dance and perform hardcore two stepping to many of their songs (sometimes the group members will jump into the crowd and join in!).If you like your idols loud and energetic this will be the group for you.
Their image lives up to their sound, lots of the members dye their hair bright colours and many members have piercings, Enma is one of the few idols I know of to have a real tattoo which is a beautiful image of a bird on her foot.  Their stage uniform consists of an oversized black long sleeve t-shirt that has been cut at the midriff which carries the groups logo on it. This gives them an interesting image on stage which makes them look as twisted as their sound.

They currently have a new CD out for sale at the venue which has two songs on it for 1000yen, their previous CD at venues had one song for 500yen and came signed by a member. I believe the new CD also does so it's a pretty cool deal. You can also pick yourself up one of their logo t shirt designs.
Official website: http://bakashinu69.official.jp/
YouTube: https://www.youtube.com/channel/UCPXtLQMoXsjUmOWyDeCCtdw

Group Twitter: https://twitter.com/bakashinu69
Members:


Enma: https://twitter.com/emo_enma

Chihiro: https://twitter.com/chihiro_ver



Ando: https://twitter.com/lllucian81



Ichika: https://twitter.com/maimiko_ichika



Minase: https://twitter.com/emo_minase
---
棘-おどろ- (Toge – Odoro -)

Don't underestimate this super cute trio!
Toge-Odoro- are a 3 member unit comprised of Shirome, Kanata and Ekubo. In its current form Toge-Odoro- has only existed since April 2018, however the group's origins stretch to last year; making their debut in September 2017. Ekubo is the most recent addition to the group having joined in April 2018 and Kanata joined in February making Shirome the last remaining original member.

Their sound is a nice mix of indie rock,garage rock mixed with some modern EDM and visual kei influences. Their image and choreography is quite dark and expressive, you can really feel the tone of the songs by how they express themselves. If you ever wanted an idol group to be modern British indie music while also trying to be the second coming of Jimmy Eat World then there will definitely be something for you here.
They are a group that comes across as plain when they come on the stage but after a while you can't keep your eyes off them. That's how I can best explain this group; it's all in the aesthetic and the sound. Everything they do is remarkably subtle but very effective.

They have a CD release but right now like many of the groups we'll be listing here it's only available at the venue. If you get the chance to see them then it's well worth picking up.
Official website: https://odoroproject.wixsite.com/odoro

Youtube: https://www.youtube.com/channel/UCwA3IPQu4MVTTbg_LW-8Tyg
Group Twitter: https://twitter.com/Kijyounokuron

Members:


Shirome: https://twitter.com/tanakashirome_



Kanata: https://twitter.com/kanata_2kaido


Ekubo: https://twitter.com/_ekubo_nyanya


If you enjoyed this article and want to help contribute towards me doing more of this sort of stuff, consider supporting me as a writer by;
Buying me a coffee – https://ko-fi.com/ramenshuriken
Pledging to our Patreon – https://www.patreon.com/Altidolpodcast
Thanks!